$6 Valentine's Day Wreath Tutorial.
4:31 PM
It doesn't get much easier or cheaper than this wreath folks! I'm attempting to make one craft per month/holiday, and this month I wanted to do another wreath (you can see my Christmas wreath
here
). I scoured my
DIY
and
Holidays
Pinterest boards and came across
this one
and a few other Valentine themed wreaths. When I priced them out though this one won hands down! Not to mention I just love felt lately and love the look of this charming wreath.
If you want to take this wreath on, here's what you'll need:
wreath form
. I used straw because Hobby Lobby didn't have the size I was looking for in foam. Make sure to leave the plastic on it!
felt
. I used 11 pieces (one of which was for a felt bow).
glue gun
.
scallop template
. I drew mine by hand.
straight pins
if you want to make the no-sew-bow. huh. Did I just make that up?
First, I drew my scallop template on cardstock. It doesn't have to be perfect. That said, I did draw two. :) Mostly because I felt like the first one wasn't scallop-y enough.
Then I traced the scallop onto 10 pieces of felt and cut them out. Each piece of felt made 6 scallops and I used almost all of them (I think I had 2 or 3 left; and it just occurred to me that I should totally make them into hairbows. Virtual pat on the back please?)
Next, I laid the felt out, in stacks, in the order in which I wanted to use it.
Then I wrapped and glued, making sure to space them out as far as I could (without letting the wreath form show).
(Back view)
Lastly I added the felt bow. I tried ribbon but the ribbon I had on hand was too skinny and looked silly. So I figured felt would be cute.
To make the felt bow, I just cut the felt (across), almost halfway down. I took that piece and cut a 1 inch strip of felt (down) off the side to use as the middle of the bow. Then I took the bigger piece and used my scallop template on either end to make the edges scalloped.* I did that, folded it accordion style, tied it with a piece of thread and then wrapped the strip of felt over the thread and pinned it in place. Sorry for the lack of photos here--I get antsy when I'm almost finished a project!
*Back story on the bow: Before I put it all together I did a quick mock up and placed it on the wreath to see how it looked. I didn't like it. The bow made it look sort of country. gross. I asked my mama what she thought and she suggested cutting the edges of the felt into scallops. Perfect! I knew I'd saved the template for a reason. Love it when things like that happen. And yes, she is where I get my creativity.
Here it is on my obnoxiously yellow door.
Oh and the little heart is from AC Moore.
Here is a cost breakdown:
Wreath Form- $2.99. It was $4.99 but I used a 40% off coupon. I got it on
this shopping trip
by the way.
Felt- 8 pieces from HL for $2, 2 pieces from AC Moore (HL didn't have light pink) for .58. 1 piece from Wal-Mart for .23. As a side note I found that the HL pieces were bigger than the AC Moore pieces.
Total: $5.80! I can barely believe this gorgeous wreath only cost that much to make!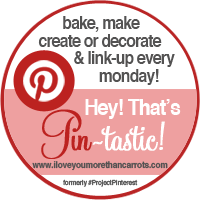 and with
Mandy of House of Rose
:
So do you have any Valentine's Day crafts planned? Do Tell!